I'm working on ideas for the tailoring system, and I think I just wanna go all out. I want people to design their own clothes with fine details so they can make unique designs, and share it with the community for example.
I've got most of it planned out how I want it to be, with different categories for tops, bottoms, dresses, skirts – and refining these so that in essence, you could create your own wedding dress, or a school uniform. Both of these would be possible with the system.
Here's a mock-up I made of the tailoring system. Note that first you create a design, which is always white, and afterwards, you pick a colour and/or pattern.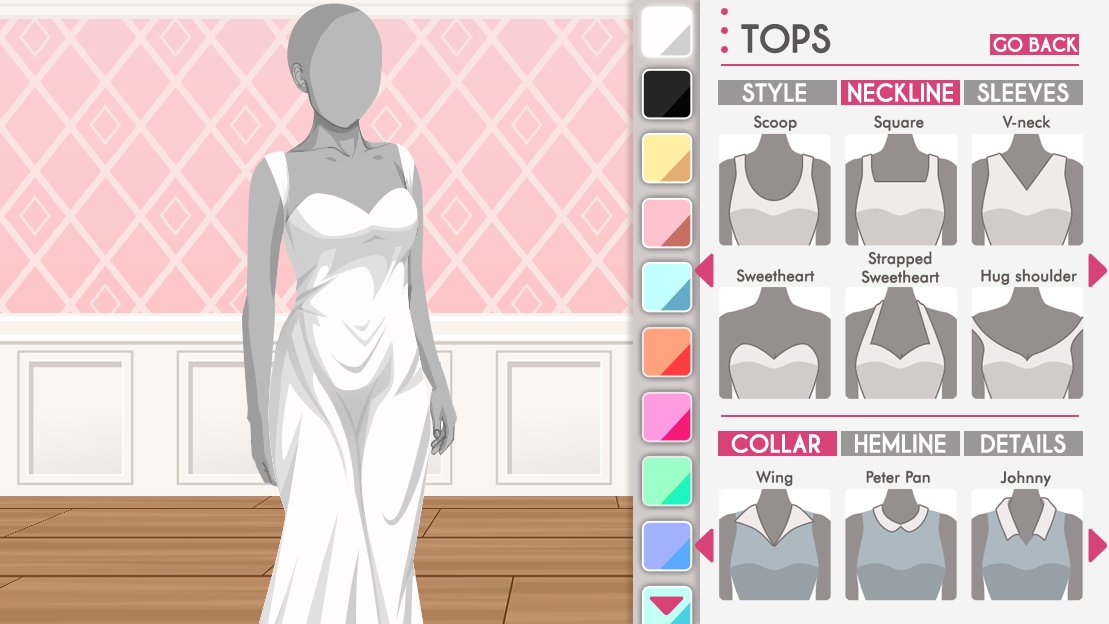 With this system in place, the way you earn money is by taking on clients who request a design with specific random parameters that you would need to fulfill. For example, a client requests you make a red shirt with a sweetheart neckline. Or another wants you to create a princess ball gown. The more money you earn, the more patterns (different designs you see in the above picture, like all of the necklines) you can afford, and thus the more designs you can create.
This is quite a big endeavor, so I would need to commission someone to create this plugin for me. I just hope it won't be more than a $1000 haha …
I also tweaked the main menu a bit, though I'll probably continue to tweak it until I am satisfied: